Summer Internship Program
Each year, from June through August, Fraser Research operates a summer internship program for graduate students at its laboratory in Princeton, New Jersey. The goal of this internship program is to provide graduate students interested in communications networks a unique opportunity for hands on experience in a laboratory dedicated to leading edge communications research.
In conjunction with Sandy Fraser, each student selects a project consistent with his or her research interests and those of the Institute. The graduate students, who are treated more like junior faculty members, are given considerable freedom with the conduct of their research. Students meet formally with Sandy at least once per week and informally on a daily basis.
Collectively, the students have a wide range of talents and interests thereby providing a balance to the program.




Weekly group sessions, led by Sandy, provide the opportunity for students to present work in progress and participate in wide-ranging technical discussions.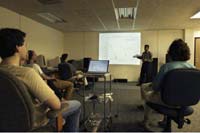 At the end of the summer, students present their work to Board members and other visitors. At this time, students are also given the opportunity to provide constructive feedback on the program through a private session with Board members.